Chart Collection

7
Little Book Open
Study Charts

These 34 charts explain the fulfilled and unfulfilled
prophecies of Daniel, Revelation, and Matthew 24.
These charts are used on this website with commentary.
These charts may also be downloaded in the following formats:

Large JPG charts on one page. —5.3mb


Low-Resolution JPG files. ( ± 2 mb Zip file)
Med-Resolution JPG files. ( ± 6 mb Zip file)
Hi-Resolution JPG files. ( ± 21 mb Zip file)
Hi-Resolution JPG charts in PowerPoint. ( ± 22 mb Zip file)
** PowerPoint Viewer downloaded from this site or Micosoft Office. (25.8 mb)
Romanian Translation PDF file —3.4 mb



~ It may be nessesary to "save link as . . ." ~



---
The 2300 Day Mirror Chart
This is a unique chart. It is actually two charts in one and teaches that there is both a historical fulfillment, the 2300 years (the upper half), and a last-day fulfillment of the seven thunders, the 2300 days (the lower half). The 2300 years is the type which points to and explains the 2300 days, the antitype. This chart explains the plan of salvation from both the earthly sanctuary of Moses and from the heavenly sanctuary of which Christ is now our High Priest. It teaches how Christ, the Angel of Prophecy, completes the prophetic plan of salvation in both history and for the last generation by the act of cleansing the heavenly sanctuary from the sins of the repentant saints, —which is soon to be fulfilled!
This chart does not represent a dual application
in the sense that the interpretation can be different,
but it is the repeating of the prophecies of Daniel
in the most accurate interpretation.

"Thou must prophesy again . . ."
Revelation 10:11
Mirror Chart —.6 mb



---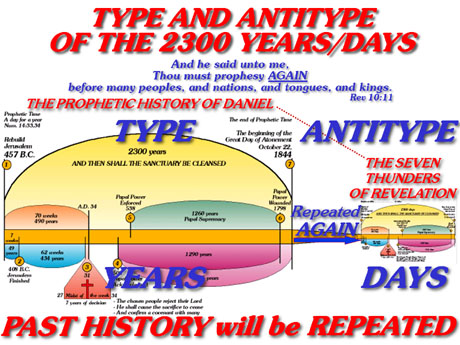 Prophetic History will be Repeated
Would you like to know—
What prophetic history will be repeated?


Free Prophetic History Repeated PDF Book



---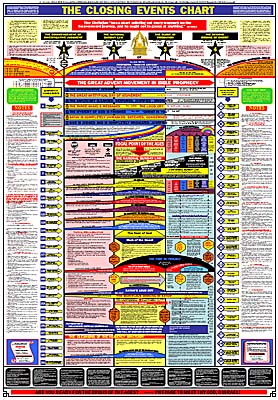 The Closing Events Chart
by Gordon Collier, Sr.
Faster Viewing —8 mb

Large one-piece JPG —24 mb

Large one-piece PDF —24 mb

The Closing Events Chart
! is being reprinted !
by SealingTime Ministries.
For ordering information, go to—
SealingTime.com


Click below to watch first printed copy.


---
7

The History of Redemption
Study Chart
Printed copies may be purchased at www.egpa.net
They have an excellent website and are
fulfilling the Gospel commission in a special way!
A 33 page PDF Guide Book is also available.
Faster Viewing —5.3 mb
Large one-piece JPG —15.7 mb
PDF Adobe Reader Doc —2.6 mb
---
7



The 7000 Year Great Controversy Chart
Made by Melanchthon Lee
Posted with permission.
This chart, from beginning to the end, shows that
the Great Controversy between Christ and Satan
is about the Law of God. The 144,000, who live
through the time of trouble created by Sunday Laws,
will prove that God is love and His plan is right.

Small JPG file —1.8 mb

Large JPG file — 9.2mb

PDF Adobe Reader Doc —1.4 mb



---
Millerite 1843 Chart

B&W Faster Viewing —951 kb
B&W Large One-piece JPG —1.3 mb
B&W PDF Adobe Reader Doc —2.6 mb
---
Millerite 1850 Chart
Larger One-piece JPG —2.4 mb
---
7

Sanctuary Chart
The Sanctuary —426 kb
---